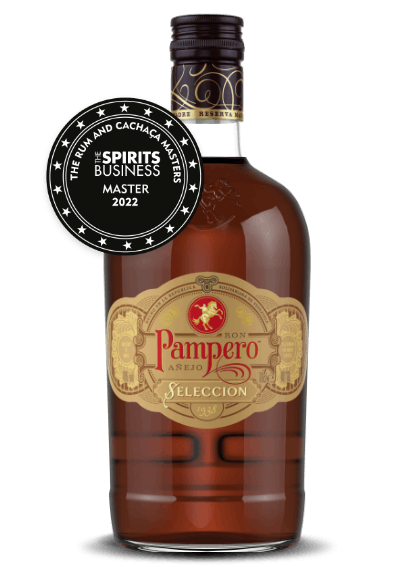 Pampero
Selección
1938
the uniquely balanced rum
This is the beating heart of Pampero™ – a blend of past and present that invites you to savour 70 years of the House of Pampero. Created with Pampero's signature passion, skill, expertise and handpicked from 10 different barrels. This dark rum is perfectly balanced to be enjoyed either mixed or neat.
Ron Añejo Pampero™ Selección 1938 is a premium dark rum, created with only one aim in mind, to achieve the most balanced rum of all.
Inspired by the craftsmen that had gone before him, Luis Figueroa, Pampero's Rum Master with more than 30 years of experience, created Pampero Selección as his vision of what a rum should be. He has created the most balanced of all flavours, something that combines the very best of mixable and sipping rums.
Our Rum Master Luis Figueroa used all his expertise and searched our "mother reserves" to hand select and blend ten Ex-Bourbon & Ex-Sherry aged rums.
Pampero™ Selección is a unique fusion between the versatility of our younger rums and the complexity of our most select rums. This combination together with the imagination and skill of our Rum Master, deliver a premium rum that is perfectly balanced.
Pampero™ Selección 1938 has a round, balanced taste, a smooth aroma and an amber colour which is born of its long stay in oak cask.
Excellent as a well-rounded & soulful neat drink, it also has the flexibility to add character and enhance any cocktail where a distinctive rum is called for.
Tasting Notes
Structured, woody, vanilla, fruity, sherry, dry, sweet, brown sugar, cocoa, complex, tobacco, honey.
recent
Accolades
Rum and
Cachaca Masters
2022
San Francisco World
Spirits Competition
2022