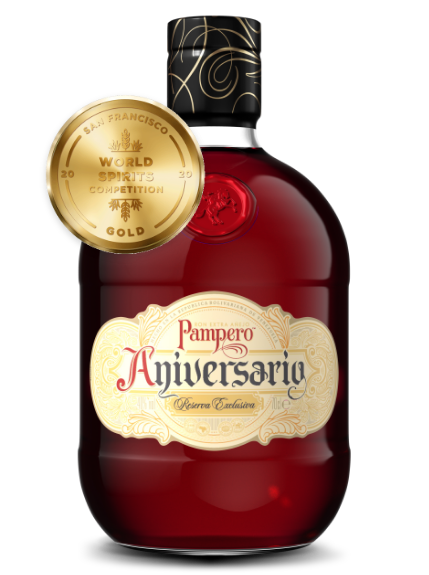 Pampero
Aniversario
Crafted to Savour
A recognisable & award winning celebration of our founders skills. Crafted to be different, using our Exclusive Reserve of Rums aged in Sherry barrels. It is a dark rum of exceptional colour, flavour and bouquet, widely acknowledged as one of the world's finest rums
Having crafted an iconic rum "house" from humble beginnings, our founders, decided to pour all of their skills and knowledge into creating a rum to mark the 25th anniversary of its origin. Little did they know that almost 60 years later, that rum would be the most awarded their country would ever produce, having won more Gold and Double Gold medals at the San Francisco World Spirits Competition than any other Venezuelan rums.
To craft this rum, our founders disrupted the usual way of rum making and added Ex-Sherry casks to the array of Ex-Bourbon barrels that were already used. Thus Pampero™ Aniversario is created from our "Exclusive Reserve": our rarest, most complex rums.
To honour this, we created one of the most distinctive bottles on the bar, wrapped in the history and story of the Llanero (Venezuelan Cowboy), our icon.
Pampero™ Aniversario is an intense, mahogany coloured premium rum, designed to be sipped and savoured neat to enjoy and discover in each sip the complex pallet of aromas and flavours of wood, sherry, vanilla, caramel, dried fruits, orange skin and cocoa.
However bartenders all over the world are discovering that there is a versatility to the rum that unlocks endless possibilities. It will mix brilliantly in any world class cocktail where it will add depth & flavour.
Powerful and complex rum, woody, vanilla, raisin, sherry, cinnamon, dry fruity, sweet fruity, chocolate, tobacco and leather.
Tasting Notes
Heavy, sweet, treacle, leather, woody, complex, fruity, rich, creamy pudding and Brown Sugar.
recent
Accolades
San Francisco World
Spirits Competition
2019
San Francisco World
Spirits Competition
2020
Rum and Cachaca
Masters
2022
INTERNATIONAL
Spirits Challenge
2022
San FRANCISCO World
Spirits Competition
2022
Pampero™ Aniversario:
the ritual
The Pampero ritual has promoted new ways of consuming rum other than classic cocktails.
The famous Pampero ritual, even already reviewed in the rum literature (Rum, a global History by Richard Foss, 2012, page 105) introduced a new way of consumption, which in addition to enjoyment and fun explains the rationale of the flavors of rum : sweet, bitter and citrus.
Sweet because it comes from sugar cane, bitter because of some components extracted by the interaction between rum and wood, and citric because of the long aging process in which acidic components are produced.
These basic flavours in rum also explain the fundamental flavors in the cocktails of this drink.
For example, a Venezuelan-style Cuba Libre features the harmony of rum with the sweetness of cola, the citrus of lime juice, and the use of a drop or two of bitters.
A rum tonic with orange peel highlights the harmony of the rum with the sweetness and citrus of the orange peel in balance with the bitterness of the tonic.
A mojito shows us its balance between the rum and the bitterness of the grass, the sweetness of the sugar and the citrus of the lime.
The Pampero ritual shows us this harmony with the use of coffee, lime and sugar.
Cut a lime slice (a quarter)
Pass one side over the sugar
Pass another side over the coffee
Bite the lime and sip Pampero™ Aniversario